It's a common question in many individuals about How to apply for divorce.
A lot of people ask me about how to file for divorce. Here in this article, I have explained in easy language so that people can know the procedure to get a divorce easily.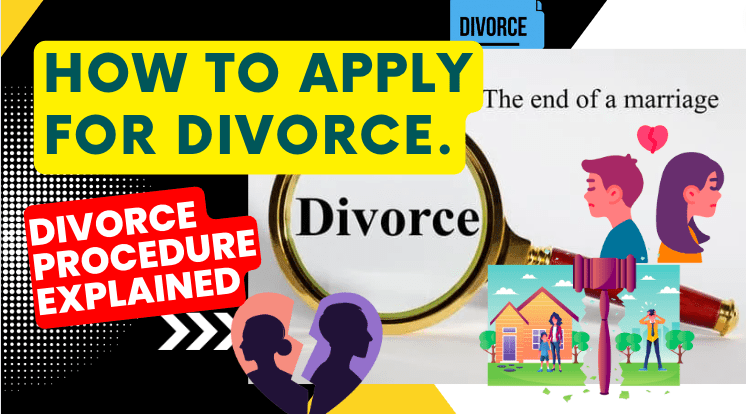 Marriage a religious Sacrament
In Hinduism marriage is considered to be a sacred bond. It is also believed that marriage joins two people in a bond that lasts until death. Marriage becomes valid only when rituals and ceremonies are performed. The wife is also called Ardhangini which is known as half of the man Hindu marriage is believed to be a religious sacrament.
Divorce Meaning:-
Divorce basically means the legal end of a marriage.
Decision of Divorce
Deciding to get divorced is difficult for anyone, especially because you know it is only the first of a million life-changing decisions you will be expected to make before it's over. And if you have children together, it's very difficult to take this decision. But what do you think staying in an unhappy marriage is better than Divorce? What is important in our life that matters? I believe mental peace is more important in anyone's life. One can stay without married life, but one can't stay without having mental peace. If you are not able to decide whether you want a divorce or not read this article.
Read if you are women:- How to divorce your Husband
How to Apply for Divorce.
There are two ways in which an individual can apply for divorce in India
1. Mutual Divorce:
For filing a mutual divorce Petition, you have to consider conditions. For example, the need for maintenance or permanent alimony, child custody matters, maintenance of shared properties, bank balance, and dividing assets among the couple. Once the couple meets these conditions, they can begin filing for a mutual divorce application. These are the step-by-step process of filing for mutual divorce:
Procedure for Applying for Mutual Divorce:-
A. Following steps are involved in the Mutual consent divorce procedure :
STEP 1:  Joint filing of the divorce petition. ( Both husband and wife file)
As per section 13 B of the Hindu Marriage Act, 1955 both parties can start by filing for the same at the court where the couple lived, the court where the couple's marriage was solemnized, and the court where the wife currently resides. If the couple feels they cannot live with each other anymore and have further agreed to dissolve their marriage, amicably can file for a mutual divorce application.
If the husband and wife have been living separately for over a year, they can apply for the same. Moreover, the process involves the presence of both parties.
STEP 2: Husband & wife appear before the court to record statements after filing the petition. ( Its called First Motion)
 The divorce petition is scrutinized by the court,
STEP 3: The court examines the petition, and documents, tries reconciliation and records statements.
Hereafter scrutiny by the court and the Presiding  Judge will pass an order to record the party's statements of the couple. This statement can be used for further divorce proceedings.
STEP 4: Court passes the order on First Motion. (Here you are just 1 step away from divorce)
Once both husband and wife's statements are recorded, the court passes the first motion. Following this step, the couple has to wait for 6 months before filing for the second motion.
STEP 5: A cooling off period of six months is given to the couple by the court to rethink the decision.
As There can be a change of mind from both sides, they can avoid divorce. But it's advisable to consult your lawyer for the same as he or she will suggest what you should do.
STEP 6: Filing of the Second Motion is done within 18 months of the First Motion.
The second motion is one step away from the final hearing. Once the couple files for the second motion, the couple will go ahead with the final hearing. This process includes the couple stating their case and further recording the statements in the family court.
STEP 7: Decree of divorce passed.
Further, when the court is satisfied with the proceedings, they pass the divorce decree and declare that the marriage is dissolved and the parties are free to marry.
Thus, these are the step-by-step procedure for filing the mutual Divorce petition in India
Read: How to Divorce Your Wife Without Paying Alimony
FAQ FOR MUTUAL DIVORCE PROCEDURE:–
Q. What is the Process of Mutual Divorce?
A. Both the husband and wife have to file a joint petition for divorce in the court of competent jurisdiction.
Q. How to file for Divorce in India Online?
A. There is no procedure to apply for a divorce online. But if you are residing outside India then you/your partner can file for Divorce Via Special Power of Attorney made in name of the power of attorney Holder.
Q. Can a Couple marry when Divorce is Pending in India?
A. No. The couple can't marry. It's offense U/s 494 IPC.
Q. Simplest Way to get a Divorce in India?
A. Mutual Divorce is the simplest way.
Q.Can NRI Can file for Divorce In India?
A. Yes NRI can file for Divorce in India. If a Non-Resident Indian (NRI) is married in India and he/she wants a mutual divorce, then he/she can do so by filing a petition in India. ( in a court having jurisdiction)
Procedure for Applying for Contested Divorce:-
 2. Contested Divorce
Simply described, a contested divorce is one in which one or both spouses contest (argue) a particular element of the divorce. As a result, the divorce process takes far longer to complete, is often more stressful, and costs more money to represent both parties.
The ground of Contested divorce
:-
Filling of the divorce petition.
Under the Hindu Marriage Act, of 1955, the following grounds for divorce:-
Fault Ground (section 13(1)) These are Such as ( desertion, adultery, cruelty, venereal disease, leprosy, insanity, and conversion ) [can be granted in a period of 6 months from service of notice as per 21B(2) of Hindu Marriage Act,1955
Breakdown Ground (section 13(1A)(i), 13(1A)(ii))
Customary Divorce (section 29(2))
You can discuss these grounds with your Lawyer/Advocate which one is good for you so that you can proceed legally.
2. Issuing of Notice to the respondent.
Once the filling is done then notice to the respondent party is issued by the court and if upon receipt of notice respondent doesn't appear then you can get Ex Party Divorce.
3. Appearance of Respondent and Filling of Written Statement.
Once notice issued and then the respondent is required to appear before the court to file his/her written version.
4. Framing of Issues and Arguments on Interim Maintenance application (if any).
Issues are framed and then there are arguments on interim maintenance applications.
5. Evidence by petitioner and respondent
Then there is evidence from the petitioner and respondent. Both parties cross-examine each other witness.
6. Arguments
After evidence from both sides then the date is fixed for arguments and the case came to the final stage.
7. Judgment
Then Judge pronounces judgment based on facts
To read more about contested Divorce you can refer to this Article
FAQs (Frequently Asked Questions)
1. How much time contested Divorce takes?
-> if you take the help of a good lawyer/advocate, it can be decided within a period of 1 year. Since the provisions of section 21B (2) say this. It just needs to be implemented by an advocate
2. Benefits of Mediation in family law cases?
-> Parties can save time and sometimes rebuild their married life in matrimonial disputes; you can read this article
3. How to Contact You for a divorce case?
->. You can reach me at +91-9991188899
4. How to get maintenance from their husband?
-> You can read this article
Sources:-